APHEO 2016/17 Biennial Report: Stay Connected

Published on Friday, 19 October, 2018
Hello APHEO,
The Executive Committee is happy to present to you APHEO's Biennial report, summarizing APHEO's 2016 and 2017 accomplishments. This report captures a tremendous amount of work undertaken by the members of APHEO in our efforts to advance and promote the discipline and professional practice of public health epidemiology in Ontario. Please take some time to reflect upon these accomplishments by reviewing the report on the Annual reports page of the website:
https://www.apheo.ca/annual-reports
Save the Date! 2018 APHEO Conference & Workshop

Published on Monday, 9 April, 2018
The 2018 APHEO Conference & Workshop will be held at the Crowne Plaza in Niagara Falls, Ontario, between November 25 and 27, 2018.
The theme of this year's event is:
A New Way Forward: Navigating a Path for Local Epidemiology.
APHEO's new Strategic Plan

Published on Wednesday, 21 February, 2018
Check out APHEO's new Strategic plan now available in the strategic plans section:
The development of the strategic plan involved a review of the past strategic plan and utilized the results from the pre-strategic planning survey. The strategic plan also took into consideration the current public health landscape and the proposed provincial initiatives in relation to health system transformation in Ontario.
2018 APHEO Executive Committee

Published on Tuesday, 20 February, 2018
Thanks to the 2017 APHEO Executive for their excellent work over the past year.

The 2018 Executive Committee are:
President

Vidya Sunil

, Haliburton Kawartha Pine Ridge District Health Unit
Vice-President

Jessica Deming

, Region of Waterloo Public Health and Emergency Services
Secretary
Erica Clark, Huron County Health Unit
Treasurer
Stanley Ing, >Chatham-Kent Health Unit

alPHa Representative
Emma Tucker, Halton Region Health Department
OPHA Representative
Suzanne De Haney, Eastern Ontario Health Unit
Member at Large

Lydia Cheng

, City of Hamilton Public Health Services
Past President
James Macintosh, City of Hamilton Public Health Services
2017 APHEO Conference: Presentations Available

Published on Thursday, 14 December, 2017
Presentations from the 2017 APHEO Conference are now available online to members on the conference page.
Thanks to all who joined us in Guelph for another great APHEO event!
James Macintosh, Lydia Cheng, Jessica Deming, Jasmin Lau, Brenda Lee, Elaina Macintyre, Stanley Ing, Laura Zettler, Caitlyn Paget
Modernized Standards for Public Health Programs and Services

Published on Tuesday, 25 April, 2017
A number of APHEO response letters are now posted on the official correspondence page. First, APHEO's response to the consultation process of the Modernized Standards for Public Health Programs and Services is now posted. A special thanks to all of our members who contributed to this response and for providing a voice for Public Health Epidemiology in Ontario. Also, two letters supporting the provincial population health survey (one to Dr. David Williams, Chief Medical Officer of Health of Ontario, for his suggestion of it in his 2015 annual report, and one to Minister Hoskins indicating our support) can also be found on the official correspondence page. Finally, correspondence to the Public Health Work Stream leads, Assistant Deputy Minister of the Population and Public Health Division, Roselle Martino and CEO of the South West LHIN, Michael Barrett (sent on March 3rd) has also been posted. To access the content of these letters please login to your APHEO account. If you have any questions or comments please contact me at President@apheo.ca
Many thanks,
James
Save the date! 2018 APHEO General Meetings

Published on Wednesday, 7 February, 2018
Save the date for the 2018 APHEO General Meetings:
Wednesday, April 25 from 9:30 a.m. to 11:00 a.m. by teleconference
Monday, September 24 from 9:30a .m. to 11:00 a.m. by teleconference
November general meeting will be in person at the 2018 conference.
For more information, see the 2018 General Meetings event page on the APHEO website.
Core Indicators Strategic Plan

Published on Monday, 5 June, 2017
The Core Indicators Project Strategic Plan is now available.
This plan is the result of extensive work understanding the Core Indicators project and it's contribution to Ontario's public health system. Since the project's inception in 1998, the Core Indicators has been a respected authority of standardized population health assessment indicators. This most recent strategic plan sets ambitious goals to further the value of the Core Indicators for public health epidemiology in Ontario.
As an epidemiologist in a local public health unit, the Core Indicators are the first place I look when starting a new project. So I would just like to take a moment to say thank-you to all the volunteers who created this resource over the years. And also to acknowledge the Core Indicators Work Group (& additional contributors) who put together the 2017-2019 strategic plan.
Caitlyn
Core Indicators Work Group Chair
Save the Date! 2017 APHEO Conference

Published on Tuesday, 2 May, 2017
The role of public health epidemiology is evolving, with increased emphasis on population health assessment that informs broader health system and community planning efforts. Please mark your calendars for the 2017 APHEO Conference where we will explore this year's theme: Fostering partnerships and moving data to action in an evolving public health landscape.
November 26 – 28, 2016 at the Delta Guelph Conference Centre
Please visit the 2017 Conference
page
for updates as they become available!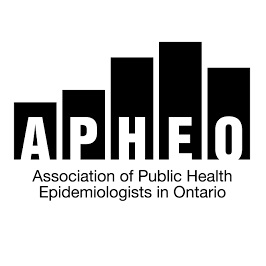 2017 APHEO Executive Committee

Published on Wednesday, 8 February, 2017
Thanks to the 2016 APHEO Executive for their hard work over the past year.

The 2017 Executive Committee are:
President

James Macintosh

,

Niagara Region

Vice-President

Vidya Sunil

,

Haliburton Kawartha Pine Ridge District Health Unit

Secretary
Erica Clark,

Huron County Health Unit

Treasurer
Stanley Ing, Chatham-Kent Health Unit

alPHa Representative
Emma Tucker,

Halton Region Health Department

Member at Large
Deanna White, Haldimand-Norfolk Health Unit
OPHA Representative
Jasantha Naidoo,

Durham Region Health Department